OUR TEAM
Founder and owner Leonce Cormier, a Moncton native, is far more interested in the quality of the homes he builds than the number of them.
He is totally committed to his customers to the extent that he gives them his cell phone number and asks them to call him anytime, night or day, if they want to talk about the project.
He says the secret of his success is not just his consideration of his customers, but also his excellent relationship with his suppliers, sub-contractors and workers.
"I count on all my employees and sub-contractors as partners in my business," he says with firm conviction.
Leonce has served as past president of the Greater Moncton Home Builders Association and the New Brunswick Home Builders Association as well as chairman of the Atlantic Home Warranty Program.
He built his first home in 1987 even while he was still working at another trade. He knew immediately that he had found his passion and the line that blends work and everything else a person does was forever blurred.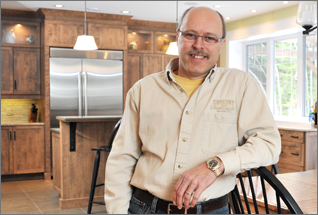 "I don't have other hobbies; my work is what I want to do," he says.
But he also knew that he wanted to build special, custom homes, not cookie cutter designs or renovations.
He continued to explore home building, then finally went into the business full time and formed Comfort Home Builders in 1991.
"I've always been interested in building things but when I built my first home I found that I really enjoyed the work. I wanted to do custom building."
Leonce says his strength is his excellent crew whose members share his values and work ethic.
"Most of them have been with me the whole 20 years, so we work very well together," he added.